The medical term for tummy tuck procedure is abdominoplasty. It is surgically done via removal of unwanted fat tissue and flabby skin from the lower and middle part of the abdomen. It also tightens the connective tissues and the wall made up of abdominal muscles in order to give you that attractively flat, trim and trim waist and abdomen. In order for you to get the best results from our rendered procedure, we recommend undergoing through our routine liposuction of the hip.
It is a complimentary procedure which works as an adjunct to abdominpoplasty. This particular procedure helps to reshape and contour up the flank, abdomen, and waist; thereby getting rid of unsightly love handles. To determine whether you're a good candidate for an abdominoplasty procedure, all you have to do is book your very first appointment today with our chief expert, Dr. Laith Barnouti. Just choose from our three clinics at your convenience.
Why is there a need for abdominoplasty?
Everyone of us would want to feel confident and beautiful about our bodies. Doing so can give one a general feeling of confidence and self-esteem, and it also boosts the relationships that we create with other people owing to the fact that we feel positive vibes all the time. Many of our clients heed the expertise of Dr. Barnouti in our Sydney practice for an abdominoplasty surgery since they desire to cut back on abdominal size, so that they'll be able to wear more fashionable clothing and give their self-image a confidence boost.
There are many reasons why excess fat, sagging loose skin, and weaker muscles become what they are especially in the abdominal area. This can be cause by advanced age, pregnancy, drastic weight changes, and even illness. Ageing can cause fat to be redistributed and accumulate on the abdominal area and the hips, and with time, even strict dieting and a more strenuous exercise routine wouldn't work. No one likes these stubborn fat tissue areas.
Abdominoplasty is deemed highly in demand at present and of course, it is very popular in all our three Sydney practices.
Why trust Dr. Barnouti for your abdominoplasty procedure?
Dr. Laith Barnouti is our chief specialist in the practice, and he is highly trained in the field of plastic surgery. Dr. Barnouti specializes on professional competence and trained expertise. He uses only the most up to date techniques for abdominoplasty for your safety and confidence when you decide to go through with the procedure. Get in touch with us at our Sydney practice as Dr. Barnouti combines the operation routinely with getting rid of abdominal excess fat, that of the waistline, and the hips as well.
FAQ on Abdominoplasty
What should I expect during my consultation for abdominoplasty?
You will be assessed and interviewed to obtain a comprehensive medical history which will be done by Dr. Barnouti. After that, the things that you'll have to expect and the goals for the procedure will be discussed as we envision a good and healthy candidate out of you for abdominoplasty. The medical history is needed in order to determine whether or not you had previous pregnancies as they have a direct effect on the abdominal area. We shall determine whether you have had laparoscopic operations in the past too.
Weight change trends shall also be taken, your predisposing factors for illness, and if you have plans to get pregnant in the near future as well. If you smoke, then it is advised that you cut back on nicotine consumption to enhance your chances to a speedy recovery. Everything shall be discussed and included in your initial consultation. Following the interview, you shall then be prescribed to undergo a physical exam in order for us to asses for the presence of abdominal hernias, scars, separation of the abdominal wall muscle and its strength. The elasticity, present integrity, and amount of the muscle shall also be considered. We need to make a clear picture of our clients' aesthetic goals even before they undergo with abdominoplasty.
You will be informed of the possible positions of scars, correction of contours, and flawless results. A post-surgery scar will of course develop and its intensity will vary on the tightness of the wound closure and your body's unique ability to heal itself as well. We take particular care in the placement of the scar on the lowest part of the pubic area. This allows you to easily conceal the scar in your underwear. Dr. Barnouti makes use of the latest techniques in order to improve the integrity of the forming scar. These techniques include superficial facial system (SFS) and progressive tension techniques. With these methods, the healed scar will resemble a faint white line.
If necessary, Dr. Barnouti may also discuss performing body lift surgery, reinforcing abdominoplasty on the regions of the back and the side of the body. This procedure helps to reduce the appearance of unwanted tissue on the back and hips. The said procedure, body lift is used for contouring and body reshaping. There is a longer period of time called for recovery when it comes to this procedure and our specialist has special considerations to promote patient safety.
The outline of the treatment will also be included in your abdominoplasty consultation appointment if needed. With an initial consultation with Dr. Barnouti, you will be able to know that if you are definitely in need of a full body lift or a mini tummy tuck, you will be informed about it. The projected results will also be presented to you should you decide to get on with the procedure. All you have to do is get in touch with us for your consultation or fill up our online booking form.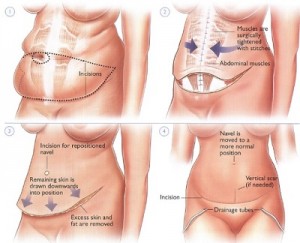 What happens during abdominoplasty surgery?
For a full abdominoplasty, it is carried out routinely with liposuction as an adjunct. Dr. Barnoutie will be making a sizable incision that resembles a bikini cut across the abdominal area. The cut would run between the hip bones right near the pubic area. This is done so that you can easily conceal the scar with swimwear or underwear. Before the procedure, you will be asked to wear your choice of underwear first to determine where the incision will be made. If a second inc
ision is needed, it is made around the navel in order to free the belly button from surrounding tissues.
Afterwards, the skin will be separated from the abdominal wall to the rib cage, it will be pulled back to reveal the vertical muscles in the abdomen. The muscles will then be tightened in place by arranging them together and tucking sutures for proper positioning. The flap of the skin will be stretched back and then the excess skin will be removed. After the procedure, the incisions will then be stitched in place before the gauze dressings are applied. A drainage tube will be temporarily placed on the finished incision site to drain out fluids. More often than not, abdominoplasty can take up to three hours, and you will be prescribed to stay on the hospital for a day or two. Mini abdominoplasty on the other hand is accompanied by fat removal through liposuction.
If you need a mini tummy tuck or abdominoplasty procedure, the skin will only be separated up to above the navel instead of up to the ribcage. The incision will also be smaller, allowing you to go home on the same day as you have the surgery.
What are the aftercare considerations that I have to mind after the abdominoplasty procedure?
You will be prescribed with a special compression bandage after the procedure. You will need to wear the bandage for the next four to six weeks post surgery. If draining tubes are needed, it will be removed after the first 48 hours. The sutures used for abdominoplasty are dissolvable, so you will only go back to the clinic every week after the procedure to check their placement. They don't need to be removed by hand since the body safely absorbs them. Bruising may also be observed in the next two or three weeks.
When will I be able to get back to my regular life and routines after the procedure?
For the full abdominoplasty, because general anesthesia is used and it's a major operation, you will be required to have complete bed rest for the next 3-5 days. But you need to walk straight hours after the procedure to prevent thromboembolism of the legs. If your job is not very demanding, you will be able to get back to work in just two weeks after the procedure. You need to gradually increase your exercise and other activities in about four or six weeks post surgery.
What are the expected positive results for abdominoplasty?
All you have to do to know more about the possible results of the procedure would be to visit our gallery for abdominoplasty. You will also be advised by Dr. Barnouti for the best approach to be used and the expected outcome of the abdominoplasty operation. Feel free to contact us so you can schedule your tummy tuck surgery or consultation. During which, you will be oriented with the costs and the expected results. Click this button to book online or call us toll free at 1300 002 006, local 02 9561 0222.
How much does the procedure cost?
Please view our latest price list >>
What are the risks associated with this procedure?
Plastic surgery, like any surgical procedure, carries inherent risks and potential complications.
Please read our Risks and Complications of Plastic Surgery page.
Get to know more about abdominoplasty by visiting our galleries and book an appointment with our practice. Just click here to schedule your appointment online, or call us at 1300 002 006, 02 9561 0222 for local calls. We look forward to be of great service to you!